Sabert Corporation Europe is thrilled to announce its recyclable high grade 100% recycled post-consumer polyethylene terephthalate (rPET) used in all its clear chilled food packaging solutions has been issued a "Global Recycled Standard" certification from Control Union Certifications. This certificate was delivered following the inspection and assessment of our facilities in Nivelles, Belgium. 
Sabert Corporation Europe takes great pride in selecting the best raw materials for its customers so their dishes not only look their best in its packaging, but also contribute to a greener future. Our now certified 100% rPET  further demonstrates our deep commitment in that regard and strengthens our position as a leader in sustainable innovation in the European market. 
Gisèle Nonnweiler, Marketing Manager at Sabert Corporation Europe, comments on this incredible achievement: "Sabert Corporation Europe began manufacturing some products which included post-consumer PET bottle flakes (RPET) a long time ago, and great strides were made over the years. In January 2016, we took our whole range to a guaranteed minimum of 50% post-consumer RPET content. In the course of 2018, we increased this percentage to a minimum of 70% and since September 2019, we have been producing packaging solutions featuring 100% RPET content. This certification celebrates and recognizes our efforts in helping make circularity a reality in our industry, one product line at a time. We are very honoured to have been granted this certification."
Closing the loop with Sabert recycled PET (RPET)
Suitable for food contact, sturdy and very light, PET (polyethylene terephthalate) is the most recycled type of plastic worldwide, which explains its growing popularity in the food packaging industry. This materials offers several significant benefits such as:
An excellent transparency that showcases food freshness
An outstanding shelf-life in the fridge thanks to its great moisture resistance
Our recycled PET is made from 100% high grade post-consumer recycled PET bottle flakes, which are carefully selected from a reliable supplier. Sabert uses cutting-edge technology to guarantee total food safety and a high quality product with market-leading clarity. In addition to this, Sabert takes recyclability one step further by reusing the totality of its internal rPET waste in the production of new clear rPET packaging solutions.
This allows us to back up our claim that both our sourcing and manufacturing processes for 100% rPET products are truly zero-waste from start to finish. As finished Sabert chilled food packaging solutions are also fully recyclable, this unique material can be repurposed after use for the manufacturing of other daily items, making our products completely circular.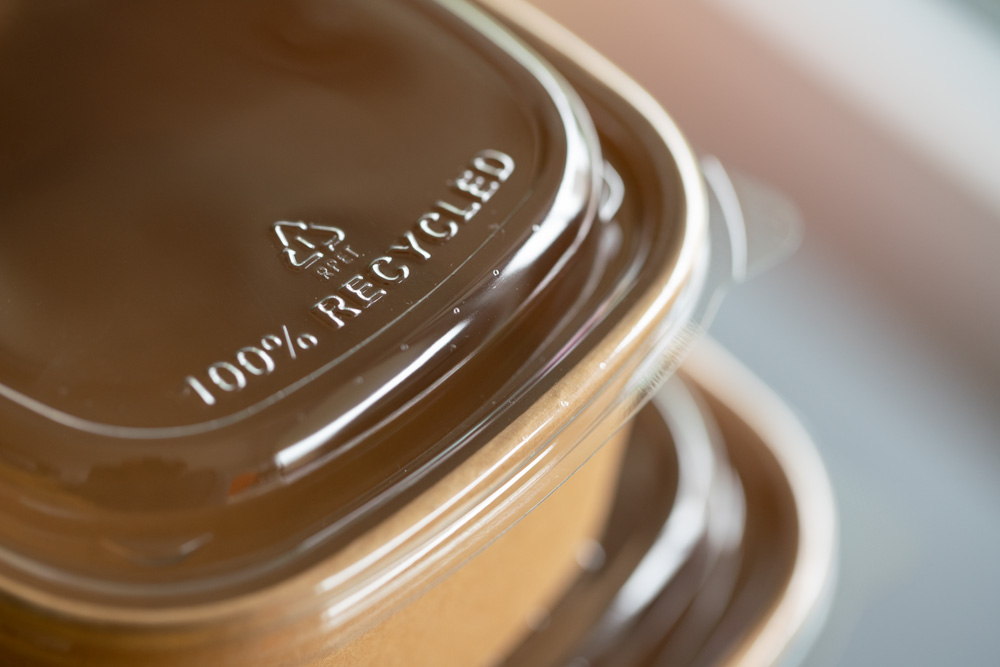 Interested in learning more on this topic?
Sabert is registered with the European Food Safety Agency (number RECY030) for approval of its PET recycling process in accordance with European regulation 282/2008/EC.