Paper Snap2Go salad tray will surprise you…
Aesthetic & minimal design with maximum functionality
Available in 4 sizes (375, 500, 750, 1000ml), the Sabert Paper Snap2Go salad tray will definitely surprises you with its sleek design and its innovative lid fit !
100% Made in Europe, the four trays come with two rPET lid sizes. This new range offers good visibility thanks to its clear rPET lid.
Moreover, its innovative lid offers an easy one hand closing and strong lid fit.
In addition, this product offers operators a myriad of other benefits, such as a great stackability and an excellent moisture and leak resistance.
The extra thing ?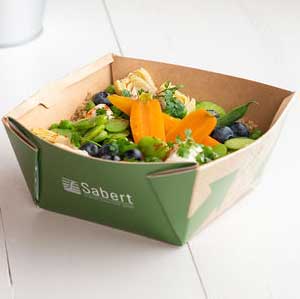 Get your product customized ! Bespoke design, sizes and custom print are fully available.
Why you will love it ?
» Sleek design, nestable
» Moisture and grease resistance
» Rigid construction, Strong enough to stack
» Innovative Inside clip for lid with easy one hand closing lid, easy to snap & go
» Secure anti-fog rPET lid
» Moisture and grease resistance
» Fully recyclable solutions (base & lid)
» Made in Europe

This range is an excellent choice for chilled meals & food-to-go applications !
Try them now !
EN: ask for free samples now